My Belly is Mine in the UK Press
My Belly is Mine featured in the Morning Star, June 28th, 2014. You can read the article here.
Protest at the Spanish Embassy, London
Yesterday, 27th of June, 2014, My Belly is Mine, in collaboration with Irish prochoice activists Speaking of I.M.E.L.D.A and the Spanish Women's Assembly from the 15M movement, protested at the Spanish Embassy in London against the antiabortion law that the Partido Popular are attempting to pass in Spain.
We congregated with around 70 supporters in front of the embassy and read out the following joint statement in English and Spanish:
Isabel is living proof that we can never take our rights for granted. Indeed, the SWASG assisted women from Spain during the 80s who came to London to seek abortion. Furthermore, SWASG collaborated with the Irish Women's Support Group (IWASG).

Comedian, activist and vice-chair of Abortion Rights, the UK campaign for abortion, Kate Smurthwaite also showed up to support our campaign and addressed the crowd. In her speech, Kate reminded us that the opposite of abortion is forced pregnancy, a cruel and perverse form of punishment:
The crowd then faced the embassy to chant:
And finally, we crossed the street to get our pictures taken in front of the embassy:
My Belly is Mine was overjoyed at the amazing turnout to today's demo in front of the Spanish Embassy showing our solidarity with the women of Spain who face the threat of having their right to abortion removed.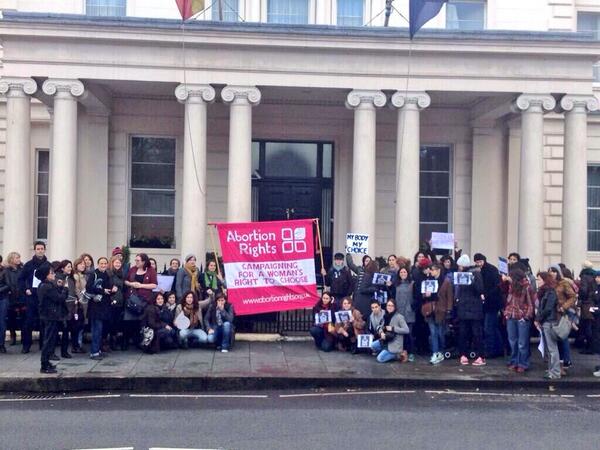 We are also grateful to all those who showed their support.